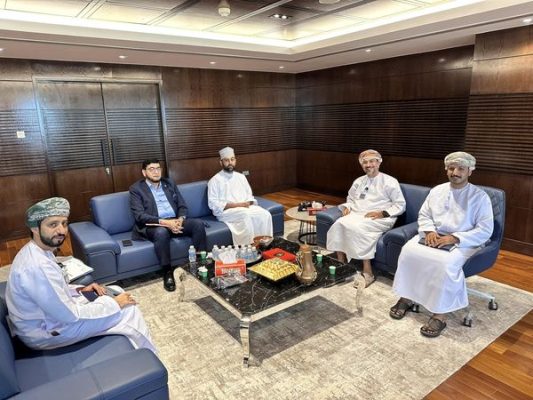 Pakistan School Muscat is pleased to announce that a highly productive meeting was held between Mr. Ameer Hamza Chairman Board of Directors, Mr. Amer Arfan Finance Director, and Mr. Abdul Wahid Al Murshid the CEO of Sohar Islamic Bank. The meeting focused on various aspects of cooperation to provide enhanced financial services to the students and the school community.
One of the highlights of the meeting was the agreement to issue debit cards to students of Pakistan Schools in Oman. This initiative will instill financial literacy among students equipping them with practical skills and knowledge for managing their finances responsibly. The debit cards will provide a secure and convenient payment method for transactions within and outside the school premises empowering the students with greater financial independence. During the meeting, they discussed fixed deposits with respect to 1, 2, and 3 years of tenure as well.
Furthermore, Pakistan School Muscat and Sohar Islamic Bank have agreed to collaboratively finance the construction of the new campus. This partnership is a testament to the commitment of both organizations to provide a conducive and state-of-the-art learning environment ensuring that the students receive the best educational facilities available.
The Chairman stated "This partnership will undoubtedly benefit our entire school community providing them with superior financial services and enabling the development of our infrastructure. We are confident that our collaboration will pave the way for great success."
Mr. Abdul Wahid Al Murshidi the CEO of Sohar Islamic Bank expressed his enthusiasm for the collaboration stating "The meeting with Chairman marks the beginning of a promising partnership. Sohar Islamic Bank is fully committed to supporting the educational community with innovative financial solutions. We look forward to a prosperous collaboration that will empower students and contribute to their overall growth and development."
PSM is excited to embark upon this progressive partnership with Sohar Islamic Bank focusing on the financial well-being of its students and the development of its educational infrastructure. Together they aim to enrich the school community's banking experience and empower the next generation with the financial knowledge and tools needed for a secure and prosperous future.