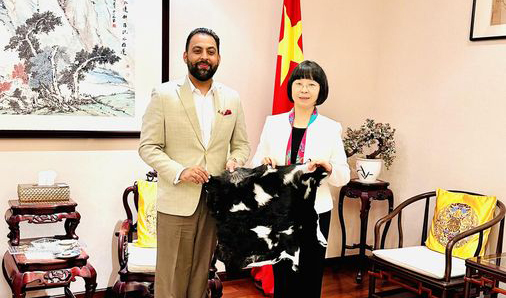 Her Excellency, The Ambassador of the People's Republic of China received the Chairman Board of Directors Pakistan School system, Oman.
During the meeting, discussions revolved around fostering cultural exchanges and enhancing educational opportunities between China and Pakistan Schools oman.
During the meeting, the Chairman provided an in-depth briefing on the Pakistan School System highlighting its commitment to providing quality education to students and fostering a culturally diverse learning environment.
Her Excellency Madam Li Lingbing acknowledged the efforts of Pakistan School system expressed her country's willingness to support the teaching of the Chinese language at the school. She emphasized the importance of cultural exchanges in nurturing strong bilateral relations and noted the growing significance of Mandarin as a global language.
Furthermore, the Chairman discussed the possibility of offering scholarships for deserving students of PSM to pursue higher education in Chinese universities. This initiative would provide students with invaluable opportunities to immerse themselves in Chinese culture experience its renowned educational institutions and contribute to the stronger ties between China and Pakistan.
The meeting concluded with an agreement to establish a working group to further explore the details of the proposed initiatives including the curriculum development for the Chinese language, teaching scholarships, and cultural exchange programs.