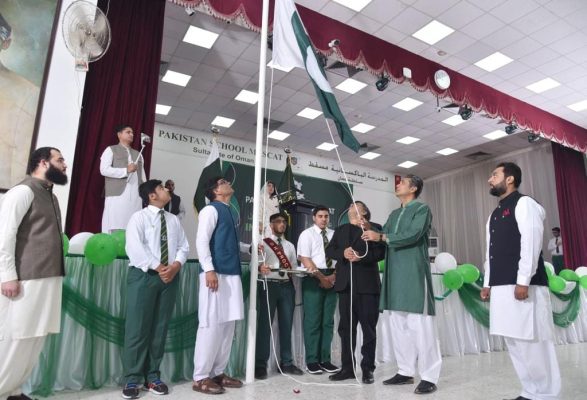 Independence Day Celebrations!
14th August 1947 marks a great day in the history of the Sub-Continent when Pakistan came into being. On this very day the white and green flag sways in hands and eyes filled with tears of joy represent the happiness and importance of independence.
Pakistan School Muscat celebrated the 76th Independence Day of Pakistan with great zeal and fervour. Students expressed their passion and excitement by wearing various traditional dresses, singing the national songs and presenting tableaues. A large number of students, parents, dignitaries and community members attended the flag hoisting ceremony. The Chief Guest H.E the Ambassador of Pakistan to the Sultanate of oman Imran Ali Chaudhry hoisted the flag along with the Guest of Honour Syed Talat Hussain, the Chairman Board of Directors, Members BoDs and other dignitaries, addressed the audience and highlighted the significance of independence day. The Chairman Board of Directors Mr. Ameer Hamza presented the welcome note and the renowned anchor & analyst from Pakistan Syed Talat Hussain also addressed the audience on this auspicious occasion and highlighted the importance of independence. The high achievers in the Board exams of SSC- I & II 2023 were appreciated and presented with shields by the H.E, Chairman BoDs and Guest of Honour. The honorable guest speaker Syed Talat Hussain was presented with the souvenirs by the H.E and the Chairman BoDs. The programme ended with the cake cutting ceremony. Indeed this great day flashbacks the sacrifices of our ancestors who laid down their lives for the establishment of Pakistan.
Long live Pakistan!