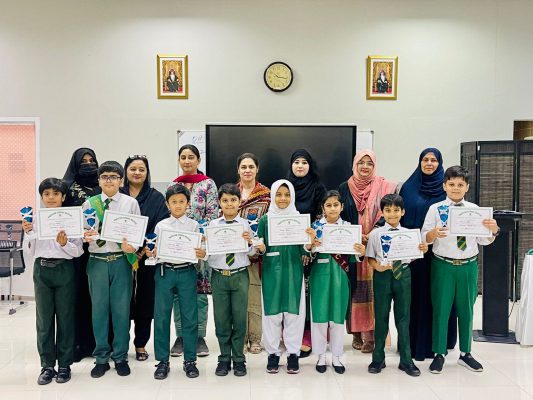 The Spellathon Competition Grand Finale
The Spellathon Competition Grand Finale was held in the PSM Junior Section for students in grades 2 to 4. Ms. Sobia Saifullah, the Senior Principal Pakistan School System (Acting), graced the event as the chief guest. Ms. Zil-e-Huma, the Vice Principal-Jr. Section, presented the welcome note and emphasized that such events are not only helpful in enhancing the language skills of students but also boost their confidence and competitive spirit.
They were given a warm welcome. The occasion was graced by the Chairman Board of Directors Mr. Ameer Hamza along with the Senior Principal Mr. Nasir Nawaz. The programme started with the recitation of the Holy Quran. The Senior Principal Mr.Nasir Nawaz delivered the welcome note.
Her speech motivated the audience and contestants, setting the tone for an exciting and challenging competition.
After going through preliminary and qualifying rounds, 15 contestants from grade 2, 20 from Grade 3, and 20 students from grade 4 made it to the finale round. Each student was given a 30-second time window to spell the words. Ms. Shaista and Ms. Irum Ishfaq, the senior subject specialists, were present as guests and called out the words for the contestants.
Every student performed exceptionally well, and two winners followed by three runner-ups were announced for grade 2. Eight winners along with one runner-up were declared from grade 3, and five winners followed by one runner-up were announced for grade 4.
The Chief Guest, Ms. Sobia Saifullah addressed the audience and congratulated the winners for their hard -earned and well-deserved success. She also acknowledged the efforts of teachers who worked hard to make the event a success. A group photo of all the position holders marked the applauded conclusion of the event.