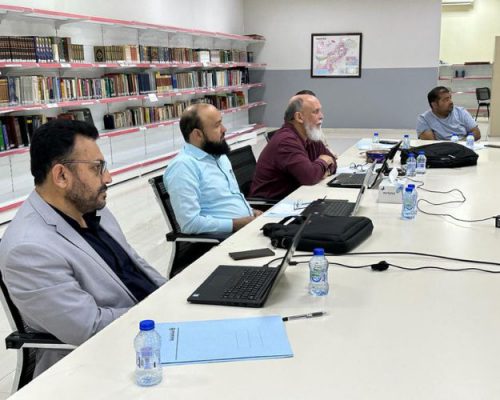 Pakistan Schools Oman Academics committee's meeting was held on Saturday, February 11, 2023 at school library of Pakistan School Muscat and was chaired by Dr. Zahid Qamar.
Mr. Ameer Hamza, Dr. Zahid Qamar, Dr. Ikram Burni, Dr. Mughees Shoukat, Prof. Mirza Jamal Ahmad, Dr. Qadir Bux Alias Imran Latif, Dr. Muhammad Moazzam Khan, Mr. Nasir Nawaz, Mr. Gul Rahim and Ms. Sanya Mirza are articipated in the meeting and discussion was made regarding the switch from Single National Curriculum (SNC) to Cambridge curriculum.
During the meeting, following points were discussed by the participants:
1- Replacement of Single National Curriculum to Cambridge curriculum, which will be implemented from the upcoming academic session 2023 – 24.
2- Checkpoints will be implemented in Kindergarten and from Grade – 1 to Grade – 8.
3- Checkpoints will be conducted for English, Mathematics and Science in Grade – 6.
4- It is decided to inculcate the religious, moral and national values, which are essential for character building of the students.
5- School will continue with the same syllabus for Islamiyat, Urdu and Pak Studies.
6- IGCSE will be followed from Grade – 8 onwards and Accounting, Business Studies and Economics will be included in the course.

More efforts are being made to switch the early years to Cambridge curriculum. Moreover, with the consent of parents the same will be implemented.